Our new wheelchair accessible apartment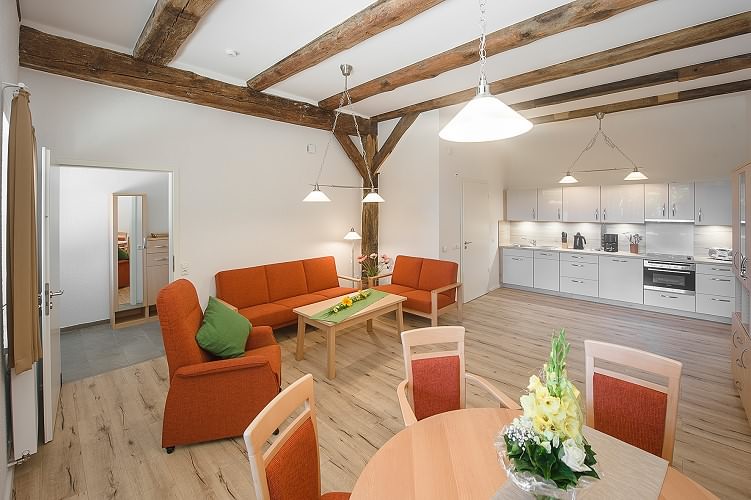 The new wheelchair accessible 80 m² apartment is completely furnished and has two terraces and a large garden with rest areas to relax
Suitable for up to 5 persons + baby.
Bedroom, large double bed (beds height 55 cm (O,60 yards)), wardrobe with sliding doors
2nd bedroom, bunk bed and height adjustable nursing bed, wardrobe
Living room with kitchen, refrigerator, stove, dishwasher, microwave, water cooker, coffee machine, toaster and dishes
Bed linen and towels included
Parking and entrance without stairs
Prices incl. final cleaning according to price list, valid from 01.01.2023
Note: A nursing service can be ordered if required. Dialysis can be performed at several locations in Oldenburg (links, see below)
Dimensions
Entrance door width 88 cm (0,96 yards). Door width of the rooms and shower / WC 94 cm (1,08 yards)
Bathroom: Movement space 160 x 180 cm (1,74 x 1,96 yards). WC, left 80 cm, right 78 cm (0,80 yards), in front 200 cm (2,18 yards). WC-height 48 cm (0,52 yards) with handles on both sides.
Shower swellless, stable shower stool and stable holdings in the shower area.
Washbasin wheelchair accessible. Large mirror to the upper edge of the washbasin, visible from the wheelchair.
Our "Lütje Deel" is decorated with paintings by the well-known Oldenburger artist Emil Brose.
Dialysis in Oldenburg
Dr. Ulrich Lammers + Dr. med. Diep Au, (Physicians for internal medicine and nephrology)
Johann-Justus-Weg 147A · phone. +49 441 62042

KfH Kuratorium für Dialyse und Nierentransplantation e.V. (Board of trustees for dialysis and kidney transplantation)
Dr. med. Hans-Robert Kertelge
Brandenburger Straße 17 · phone. +49 441/944160

and
Klinikum Oldenburg (Hospital Oldenburg)
Rahel-Straus-Straße 10 · phone. +49 441 403-0